• Prague-based Credo Ventures announces the final closing of its fourth flagship fund CS4 at €75 million.
• The fund is aimed at early-stage technology companies from Central and Eastern Europe, from Pre-Seed to Series A. Since its first close earlier this year, CS4 has already made 9 investments.
• Investors in CS4 include new and returning individual and institutional LPs including RSJ PE, Isomer, Cendana Capital, Aternus, Atomico, Sequoia Capital and founders of UiPath, Avast, Adastra, Productboard, Rohlik.cz, Pale Fire Capital, and others.
In the past 11 years, Credo has built an impressive portfolio of 76 companies with a track record of exiting more than a dozen companies through an IPO or sale to companies such as Oracle, Cisco, or Miro. They also supported two of unicorns emerging from the region, RPA leader from Romania, UiPath, and global customer-centric product management platform from the Czech Republic, Productboard.
With the new fund, Credo will continue supporting early-stage companies and founders in creating the new success stories in Central and Eastern Europe. In doing so, the company is partnering with new VC firms outside of the region to bring the best opportunities for CEE startups:
"We tried building a VC firm that is very cooperative. Ever since we started, we have built relationships with other VC and tech firms in Western Europe and the US, so that we can help our portfolio companies with their next rounds of fundraising and their go-to-market's.

We are excited that among the investors in CS4 we are lucky enough to welcome Sequoia, which is one of the best VC firms in the world, and Atomico, one of the best European VC firms. We will continue building bridges to other VC firms out there," Ondrej Bartos, Founding Partner of Credo Ventures tells us.
Next, Ondrej Bartos helps us deep dive into Credo Ventures investment thesis, specific targets with the fourth fund, as well as advice for founders.
The Recursive: Could you take us back to the beginnings of Credo Ventures and share the story behind the launch? Why then and why the specific geo focus?
Ondrej Bartos, Founding Partner of Credo Ventures: My partner Jan Habermann and I decided to launch Credo Ventures in 2009. At the time, we were already doing some angel investing and also working with a couple of founders in Central and Eastern Europe.
I think there were two moments that decided the launch of our own venture capital firm. One was our growing excitement about Central and Eastern Europe as a region. We have to go back to 2009 to recall that there were already success stories growing in different parts of the region. We saw antivirus companies emerging from the region, such as Avast and AVG in Czech Republic, or Bitdefender in Romania, and other success stories, such as LogMeIn in Hungary.
We had this feeling that the region is super interesting, starting to bubble with potential, and we deeply believed in the talent of people in CEE.
The other moment was when I received a fellowship in the United States, the Eisenhower Fellowship, which got me traveling around the country for a couple of months. The Major of the program was entrepreneurship, innovation and startup financing, and the whole program got me really excited, energized, and inspired about this field.
We made the decision in 2009 and in 2010 we went to the market with the intention to raise a pilot, small VC fund that would invest in technology startups in the region.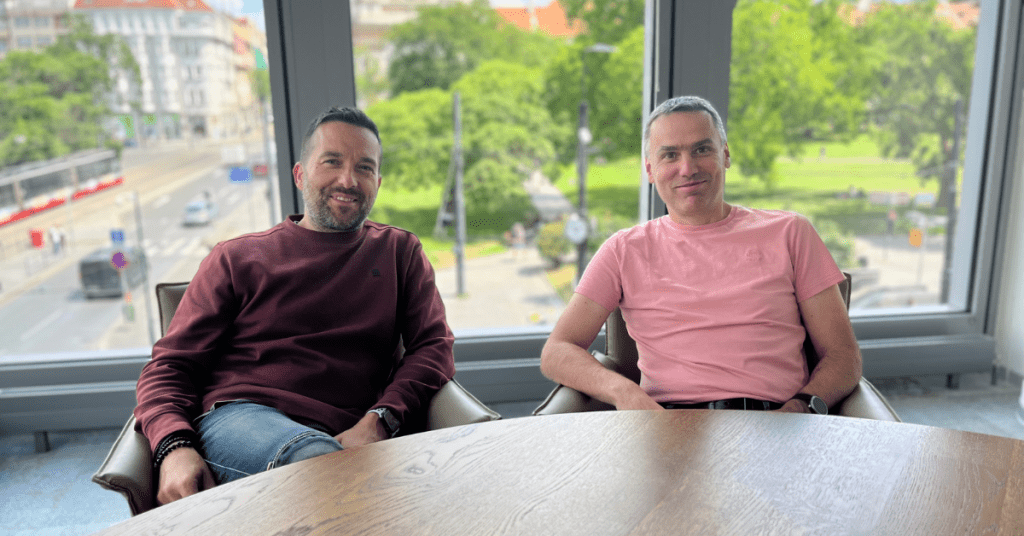 It's been three funds since then, and now you're on the verge of launching your fourth flagship fund CS4. What are your plans with the new fund and what is the investment criteria?
With our fourth fund we are basically doubling down on the strategy of previous funds. We intentionally kept the fund relatively small – we closed it at 75 million euros. We didn't want to keep growing the fund size because we want to continue investing in early stage startups.
Since the beginning, we've been focused on seed, pre-seed, and early Series A stages. We enjoy being a part of the startup's story from the very beginning, and we feel that this is where our strengths are. We believe in our ability to scout very early opportunities and to help startups at these incipient stages.
With CS4, we can invest anything from 100,000 euros to 5 million euros, but our typical initial check would be 1-2.5 million euros.
We only invest in startups with big ambitions and that we believe address a big opportunity, either to disrupt an existing market or to create a new market. We like bold ideas and ambitious people and want to back the best of them.
What is the best part of investing at very early stages?
To me, the best part of investing is seeing the progress, seeing how a bunch of smart people come up with an idea or a plan, and then actually create a product and bring it to market. The most rewarding feeling is to watch them grow, even as they make their first mistakes and learn from them. I try learning from these mistakes, too.
I guess this is where my passion is: the early stages when you crack the code, figure out the product-market fit, get those first clients, and then start to scale.
I was enjoying the time when UiPath had 10 people in a small office in Bucharest, or the early stages of Productboard. There's a certain magic when the company is just starting out. At this stage, the entrepreneurial spirit is really impactful every day.
Once the startup grows and then raises Series A and Series B and surpasses the first hundred employees, it's not as exciting for me anymore. I feel that's already for someone else, and I can no longer add as much value.
There are arguably more challenges for (very) early stage companies in the current macroeconomic environment. How are you factoring this into account within the new fund?
It is definitely a factor. We now happen to be in the most uncertain times for the past few years, and I am no macroeconomist, so I cannot make good predictions of what's going to happen. But I feel that at this point almost no one can make good predictions.
The uncertainty adds to the complexity of launching and growing a startup, but on the other hand, startups are always working with a high amount of risk, making bold and wild bets. So, in a way, the macroenvironment plays a smaller role in the startup world.
We started discussions on the strategy and size of CS4 when things were pretty optimistic, at the end of 2021. And I don't think we've made big changes. We still want to back ambitious founders and invest in startups that are changing the world.
The one thing we would look different at is the runway that we are providing to the startups. When we invest now we want to see a little longer runway than last year. In 2021, the investing ecosystem was so active that it was fine planning for another round in 12-18 months, but today we are trying to see that the startups have 24-30-36 months of runway. So it's more about trying to minimize the risk of the current macroenvironment by providing more money in our investments than we would have done the year before.
What are the three most important things for you when assessing a potential target?
I'll start with what probably people hear from investors all the time. It's the people.
The people are the most important part of a startup because, especially in the early stages, people are all that the startup has.
But funnily enough, we usually don't start with people, we start with reading an investor deck about the product, the market, the competition, and how they plan to change the status quo.
I'd say that in the deck, when we start looking at a startup, we usually look at the big picture and the size of the opportunity. Then we typically meet the team and decide whether or not to spend more time there. And then the third component is the timing. We spend some time thinking about whether or not it is a good time to address the opportunity.
Are you particularly excited about certain verticals or technologies?
Every week I am excited about a new vertical. But when I take a look at our investing history – Credo Ventures has made almost 90 investments in the past 11-12 years – our track record proves that it is usually something counterintuitive that becomes successful.
Before UiPath, I don't think anyone would have guessed that intelligent automation would be disrupted or co-created by a Romanian startup. Before Productboard, I don't think anyone would have guessed that Czechs would start a product excellence platform for the biggest companies in tech.
I am a believer in the thesis that amazing companies can be built out of anywhere and in the strangest verticals, in verticals with no previous track record in that geography. So we consider ourselves more focused on excellent teams and ambitious plans rather than verticals.
Bearing in mind there's no one-size-fits-all solution, what can ambitious entrepreneurs learn from the success stories of UiPath and Productboard?
Looking at some of the successful companies in our portfolio and not only – and by the way, I would argue that there's a lot more companies that will be soon recognized aside from the ones you mentioned – I'd say it's still the founding teams and the people that make the difference. But not just in the way they are at the beginning, also in the way that they are able to learn, the speed of their learning curve.
We don't invest in outliers, people become outliers over time, and we aim to invest in the ones who can become outliers.
The founders' ability to think clearly around a certain opportunity, to execute, to grow and scale companies, their ambition and hunger – these things I believe are important for the success of a startup.
Let's paint a picture of the future of the CEE tech startup ecosystem. What is one thing that will change for the better, and what is one thing that we already have and should keep with us moving forward?
I truly believe when I look at CEE startups that there is often a substantial advantage over US or Western European startups, which are often about marketing and sales. In our region, unfortunately, we don't excel at marketing and sales, but I feel that the technology and technical talent here are outstanding. I believe that CEE founders are more real in what they create.
We can learn to be more ambitious, positive, and optimistic, as well as shape those marketing and sales skills that we still very often have to learn on the way. I feel that adopting those skills may help us shortcutting to more success stories. And of course we need more success stories, because those inspire new entrepreneurs.
What else should founders know about the new fund and how they can partner with Credo Ventures?
I think one important mention is that we will be strengthening the team. For CS4 we have three new General Partners at Credo: Polish GP Maciej Gnutek, who spent five years at Innovation Nest, Guillaume Fournier, who rejoins after two years at Credo's portfolio company Pricefx, and Karolina Mrozkova, who joins after five years at White Star Capital, adding her international and North American venture perspective to the mix.
Another relatively new initiative at Credo is a partner-talent function through which we are building hiring expertise to help portfolio companies hire talent more effectively. So our Talent Partner Kristina Shershun is helping our portfolio companies with hiring the right talent and setting up HR processes, which we believe is very powerful at the early stages of startups.