Bucharest,
Romania ~
When we talk about fashion and textiles today, we are bound to also discuss the environmental and social impact of the sector. For years, headlines have been crying that fashion has failed society, as well as the environment. And whether driven by mission or pressure, businesses have responded with sustainable fashion business models and solutions
The fashion industry's environmental impact spans the entire value chain, from raw materials to processing, and end of life disposal. In 2018, the apparel industry generated at least 4% of all GHG emissions that contribute to global warming. Just one polyester T-shirt produces 5.5 kilograms of CO2 throughout its lifetime, rivalling a 21 kilometers car ride. Resource use is also intensive, with high quantities of water, oil for plastics, as well as lubricants, fertilizers, and pesticides. Finally, waste and pollution are big issues: plastic use leads to microfibers, water pollution, textiles and clothes get discarded as waste, and manufacturing involves the use of toxic chemicals.
In this series, The Recursive discusses the different aspects of sustainable fashion and talks to fashion startups in the SEE to understand both their solutions and the bears on the road.
Today, we talk to REDU, a social enterprise in Romania that reutilizes textile and clothing waste as input for new fashion items. One step towards a more eco-conscious fashion industry is to build or redefine business models around the logic and goals of a zero-waste, circular economy. Firms can start with reusing and recycling garments and clothes to minimize resource consumption and waste. Repurposing waste materials as inputs for new clothes is a great way to extend the life cycle of clothing products.
In Romania, "REDU has not only become a generator of consumer-friendly alternatives, but also a benchmark for eco-entrepreneurship at a national level that emphasizes important individual actions to be taken in consumption and sustainable production," Andreea Sofronea, Designer, Maker and Manager, and Elvys Sandu, Designer and Market at REDU told the Recursive.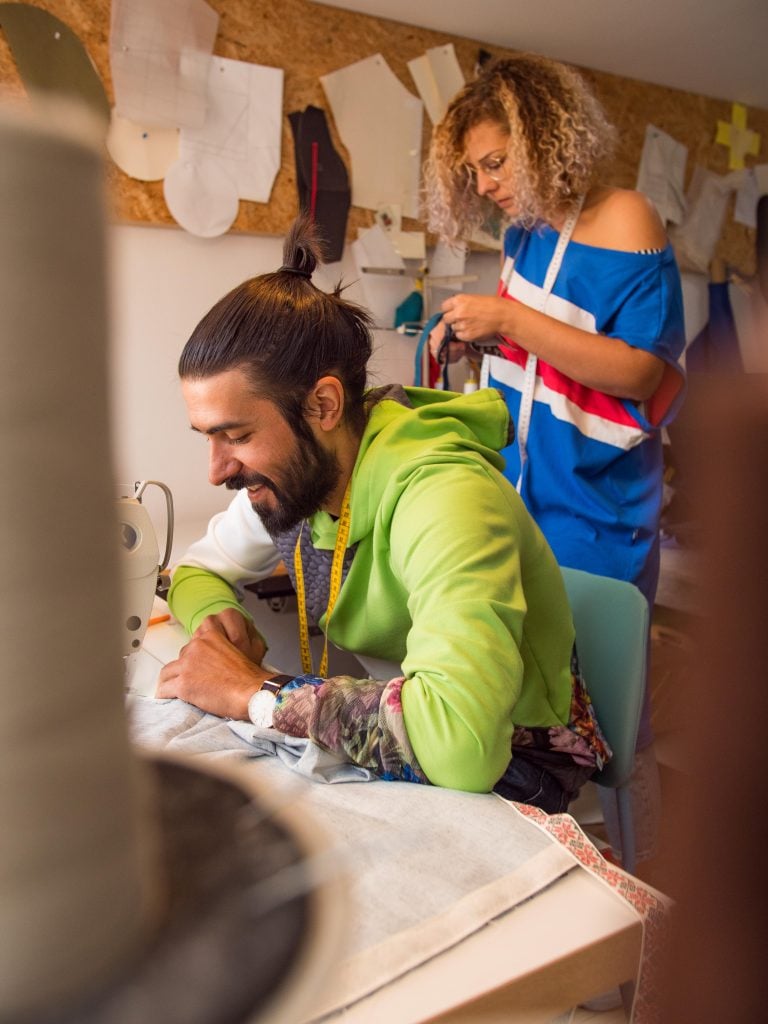 Transforming garment waste into new fashion items
Aiming to creatively transform waste into resources, REDU was launched in 2015 by Mai Bine, a non-profit organization from Iasi, Romania, focused on sustainable development projects. Early on, the project received implementation support from the Norwegian Government as a green innovation initiative, through the Norwegian Financial Mechanism 2009-2014.
"Our interest in developing an economic activity with a triple bottom line approach (people, planet, profit) lies in the recognition of the fact that to build societal trust and determine behavioral change, we need a proactive attitude rather than a reactive one. We also need to prove that another world is possible," Andreea and Elvys share.
REDU creates new and improved products out of pre-consumer and post-consumer waste to support consumers in living a zero-waste lifestyle. To do so, they start with collecting old and used textile materials from the community. Andreea and Elvys share that the team started in 2015 with 6 local employees and a Norwegian designer, Lisbeth Lovback Berg. The team shrunk before the COVID 19 pandemic started, yet they added a new maker recently, reaching a total of 3 members.
"From our experience, we could say that it is a business pattern that somehow goes against the tide: decreasing production instead of increasing, less instead of more, upcycled rather than recycled," Andreea and Elvys explain.
One recurring fashion item in REDU's product portfolio is the T-shirt or sweatshirt with trapezoid shapes. Many clothes have gravitated around the use of the trapezoid. Otherwise, their products are constantly varying. In the last 6 years, REDU has reinvented its collection multiple types, adapting to the materials collected, from pyjamas, waterproof jackets, bicycle cobs, wall organizers, and upcycled military clothes, to Christmas decorations and various custom-made furnishings, such as covers, curtains, pillows, beanbags. Adapting to the constant changes in the fabrics they receive has been one of the key challenges for the team.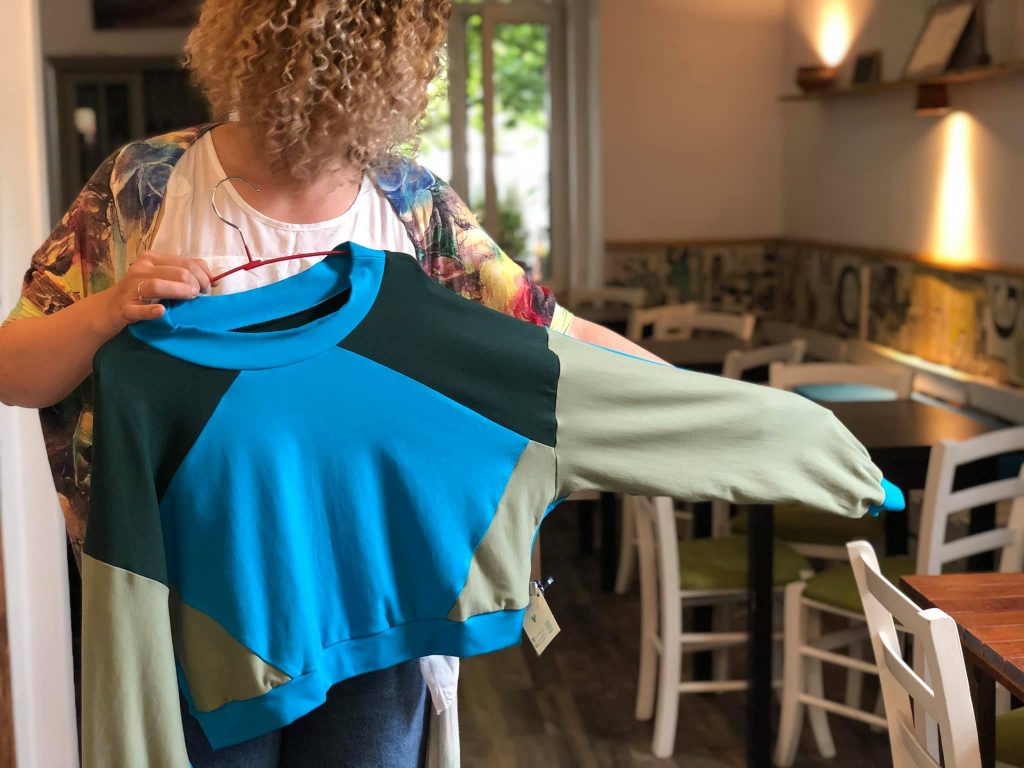 Moreover, the team explains that we cannot yet talk about entirely circular fashion. Closing the loop is complicated and the market is not there yet. Recycling, which is part of the process, is also at an early development stage. Yet, the philosophy and elements behind can be applied, starting with a reduction in consumption of both materials and products.
"The smartest and most conscious thing we can do now is to reduce consumption. We must begin to understand, as many of us as possible, that we do not need abundance to keep pace with the world but rather simplicity to keep pace with nature, where nothing is wasted, everything is transformed," Andreea and Elvys believe.
The REDU team thinks our only chance to create a better impact on the planet is to become resilient in the face of change. Switching to sustainable fashion and a zero-waste lifestyle from the previous unsustainable way of utilizing clothes is a way of preserving what we already have.
"We must learn to live with the consequences of the last 50 years and begin to repair or at least maintain what we have left, whilst thinking about future generations. The same applies if we choose to plant a tree now. Although we may not be able to cool down under it, we do it to give this chance to our children," Andreea and Elvys add.
Read the stories of our sustainable fashion startups in our Sustainability channel.