Bucharest,
Bulgaria, Romania ~
"Until now, everyone could speak their minds about almost anything they want on social media and few take responsibility for their statements. In our opinion, the social media platforms that we all use aren't the right place for searching advice or information for investing your hard-working money," says Iustina Faraon. Iustina is the co-founder and CEO of Coreto, a social platform aiming to create a secure environment with verified information for cryptocurrency and blockchain investments.
Coreto is built as a result of the team's own challenging experience with making investments in blockchain and cryptocurrency projects. Part of the challenge comes from the breadth of misleading information regarding investments in the space that comes from social media platforms.
"It is a known fact that most influencers are shilling projects mainly because they are getting paid, and not because they actually believe in them. If they make a bad call, they can easily delete their posts like nothing happened or it gets lost in their main feed," Iustina explains.
It turns out that building a blockchain space is not enough. Building a healthy blockchain space should be the goal. And the purpose of platforms such as Coreto is to contribute as much as possible to building a healthier ecosystem for the crypto and blockchain industry. Just recently, the company announced partnering with PARSIQ, a modular blockchain analytics and monitoring platform. PARSIQ's custom data streams will enable Coreto to access a trusted source of information, on which to further build data analytics and notifications for their users.
The Recursive reached out to Iustina Faraon to understand how investors can better navigate the data available to make informed decisions, the innovations behind the social platform offered by Coreto, and the company's next steps.
The Recursive: How does Coreto help build a safer blockchain and crypto space?
Iustina Faraon, co-founder and CEO of Coreto: It tackles the problem of knowledge and trust in the cryptocurrency industry by introducing a reputation-based social platform that bridges the gap between blockchain retail investors, traders, influencers, newcomers, and project teams looking to achieve funding goals. This enables users to monetize their knowledge and build a reliable reputation online.
The platform is a tokenized, secure environment for crypto communities, offering verified crowdsourced information thanks to its comprehensive trust and performance system. We employ various technologies, including Machine Learning and Artificial Intelligence, to save users valuable time in the due diligence processes when making trading decisions. These algorithms help recognize various market trends and investor interests to generate relevant metrics that are useful to the community.
One of the platform's main differentiators is the gamification system, which brings components of video games into a social network. This means recurring tasks, rankings, achievements, leaderboards, and much more.
What are the key elements of a reputation-based social media platform? What is unique about Coreto?
The key element lies in the decentralization of information. Because everything posted on Coreto is immutably and transparently stored on the blockchain. Each user has a Trust meter (given by how the community interacts with their content) and a Performance meter (that tracks the accuracy of their price predictions). Together they'll create a Reputation score.
One of our unique features is SOOP (Staking Of Opinion Pool) – it is a tool for traders to make price predictions for crypto projects, build up their reputation, as well as earn $COR tokens in the process. Every call will count towards the creator's reputation, bringing accountability and rewards for making educated trading calls.
But SOOP will not be the only feature that will bring uniqueness to Coreto. We aim to change the whole crypto space with useful features, a lot of gamification, and Machine Learning algorithms that will give the community important insights about social sentiment, market trends, and on-chain data.
Where does the $COR Token come into discussion?
The $COR token is the fuel for Coreto. Its main use case is to get access to the full spectrum of features our platform will provide. Either by spending it or just holding it in your wallet.
At the moment, we've put in place a number of use cases for our token, some more important than others.
The first implemented use case for the $COR token is in creating, challenging, or pledging opinions using our SOOP feature. A few other use cases are staking, content monetization, holding the token to access different features of the platform, and many more.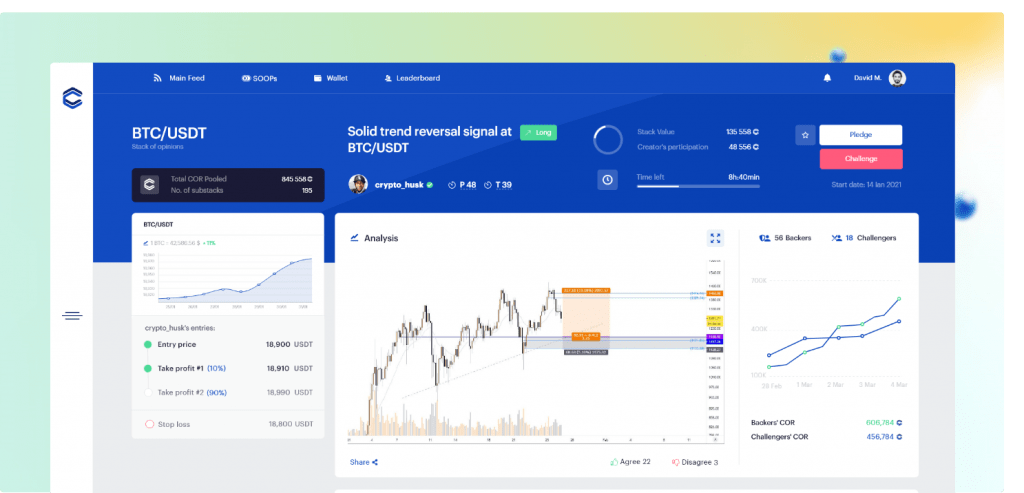 We are noticing a trend with blockchain-based social media. Where do you see this going in five years from now?
Social media has changed our behavior. People are misled and manipulated in the current social media environment. It's easy to notice that people have become more aggressive behind a screen just because they can be anonymous or no one is accountable for their online behavior.
I think it's time to level up the social media industry and create ecosystems for communities to help each other reach the same goal, educate one another, and monetize content in a simpler way.
Back in April, you launched the Alpha version of the platform. What have been your insights based on this phase?
We are delighted by the enthusiasm with which our Alpha release has been received. We have more than 1500 onboarded early adopters and testers, with which in the last months we have focused on further developing new features, bug fixes, and filtering and implementing the feedback received.
We've also noticed, based on the feedback received so far, that our users already see and understand the benefits of being accountable for your opinions, and how retail investors could benefit if influencers, traders or content creators start building their crypto reputation profiles on Coreto.
What are your plans going forward?
"If your dreams do not scare you, they're not big enough" – this is a quote that describes our plans perfectly.
We plan to onboard at least 10,000 users until the end of the year, to continue making new partnerships and developing features that will change the way people DYOR for the projects they're interested in.
How did you fund the business? What type of support do you have in the ecosystem?
We started in 2019 as a bootstrapped project. To this point, we did not reach out to any institutional investors, but we did have a small private sale last year that helped us speed up the development.
Up to this point, our focus was on building, so we've kept our heads down and did not focus much on bringing a lot of attention to Coreto. As our Alpha Release is more stable and secure, we recently started to reach out to different projects and service providers from the industry with the scope of identifying the right strategic partners that will help us in reaching our goals.
What advice would you give to entrepreneurs at the start of their journey?

The entrepreneurial journey will be a bumpy ride. Every day you have to make decisions, overcome different obstacles and find solutions to go further with your goals and dreams.

My advice for entrepreneurs at the start of their journey will be: don't be scared by obstacles and difficult situations, you need them to learn, adapt and grow. Growth doesn't come in the comfort zone. Believe in yourself, find the right team members and enjoy your ride.