Pristina,
Kosovo ~
A small, but growing market, Kosovo looks to establish its young IT industry on par with the rest of the Western Balkans.
While there is still only a small number of domestic startups, young and ambitious ones such as Appstellar, a cloud software development and DevOps service company, are setting up the pace for the rest.
Founded a little over two years ago, the startup already has more than 25 employees, and it is also the first Kosovo-founded company to become AWS partners and also the first company within the Western Balkans to become a Kubernetes Certified Service Provider. What's even more impressive is that the young startup and its co-founders Mehmetali Shaqiri and Rozafe Llalloshi have done this without any outside investments, and during the COVID-19 pandemic.
"The company started out as two seats in a co-working space at Innovation Centre Kosovo to soon renting a small office there, to then a bigger office, and by the end of the 2-year lease, we had to rent out 2 offices because the team had grown that much. Today, 2.5 years later, the team has grown to 30 and we work comfortably in our new(ish) offices in the center of Prishtina," the company tells The Recursive.
Now, Appstellar is growing so fast that it is are already looking for new bigger offices.
"Having worked together in the past for many years, and successfully built several development teams and cloud solutions, the technical aspects of the company seemed much easier compared to the business side of things. We had to learn a lot of new things, wear multiple hats for quite some time, have the highest level of commitment ever experienced before, and be very persistent in achieving desired results," the company says.
Isolation and lack of funding are among the biggest challenges
Projects that the Appstellar currently works on include fintech, health tech, as well as the automotive industry. While it has worked for them, access to investments is the biggest issue that entrepreneurs from Kosovo are facing at the moment.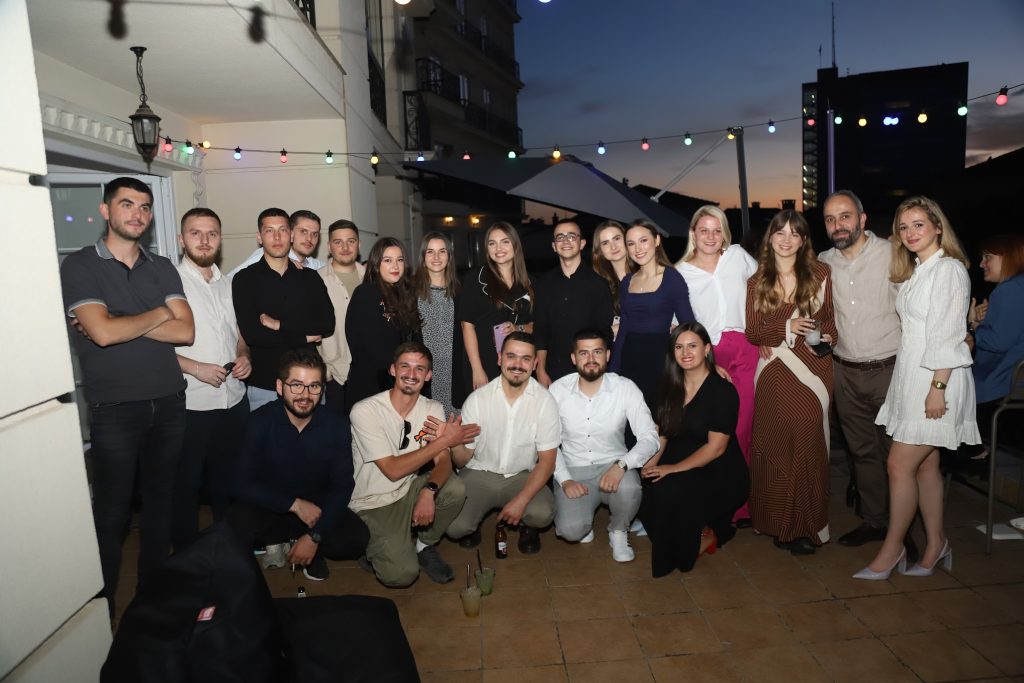 This reason alone has prompted many young IT professionals from the country to move abroad and create their startups there.
The co-founder of US-based proptech startup Rubik, Krenar Roka is one of them. According to Roka, being a post-conflict and relatively isolated country, the only welcoming ecosystem for Kosovo entrepreneurs in Kosovo has been the cyber-economy, mainly due to its open-source nature.
"We are just beginning to see the first generation of our technology companies reach scale, corporate maturity, and deliver products with global reach. As a result, not only are we seeing our companies tap into venture capital but also achieving more exits to international companies," Roka tells The Recursive.
Roka's company Rubik recently closed a $3.5M seed round to further develop its ML solutions for realtors. However, according to him, unlike Rubik, tech companies that actually based in Kosovo are facing a lot more hurdles not only when it comes to getting funding, but much more as well.
"That being said, there is a ton of friction for small tech companies in Kosovo. These companies are struggling to access a qualified workforce and are also incurring a substantial cost of doing business as a result of bureaucracy," Roka tells The Recursive.
At the same time, there are a lot of international startups created by young graduates who moved abroad for work. Isolation is one of the biggest issue at the moment for Kosovo, as it is the only country from the Western Balkans that doesn't not have a visa-free regime with the EU.
"As much as it's ironic, it also feels like an accomplishment the fact that we're an isolated country yet we've managed to penetrate into the international market so well that we export 90% of our IT services (in our case it's 100%). The visa issue has unfortunately been holding us back from participating in international events where we can grow our business and expertise further too. It's a pity to see a country with this much potential restricted from traveling freely," Appstellar tells The Recursive.
Developing a prosperous IT industry
However, as it the case with Kosovo entrepreneurs who went abroad and created their startups, the isolation isn't an issue for those that want to start a career in the IT industry, especially having in mind that Kosovo is also amongst the countries that have the youngest population in Europe.
Education centres such as North Macedonia-founded Creative Hub are also doing their part for providing the Kosovo youth the necessary skills to succeed in the industry. The training hub has been present on the Kosovo market for more than three years and it so far it managed to have more than 200 students go through their IT programs.
"The last internal research that we did showed the age of the people that undertake our programs is 60% ( 18-22) 35% ( 23-35) and 15% ( 35 and above). The Data Science Academy where students learn business analytics and machine learning, is the most in demand. 90% of the graduates find a job in a prospective startup that was funded based on using an AI feature in it," Creative Hub's founder Arijana Koskarova tells The Recursive.
According to her, all of these indicators show that Kosovo has the potential to develop a strong IT industry and develop exciting startups.
"Kosovo is a very prospective nation, with a few startups that raised million dollars + in funding, such as Tive, Gjirafa, Rubik, are opening a lot of job opportunities for the students that have skills. Investing in software development, data science, HR, Digital marketing, UX UI is definitely an investment that not only pays but gives opportunity for a thriving career in the startup world," Koskarova explains.
Startups such as Appstellar are also illustrating how successful can the tiny country's IT talent be if its given the right opportunities.
"We've already seen some great products in the making and very innovative ideas that we look forward to seeing alive. In the last decade that we've worked in the industry, we've met some of the brightest minds with a problem-solving mindset. This place is fueled with innovation," the company concludes.