Brezoi,
Romania ~
Imagine paying minimum amounts every year for heating, cooling, and house maintenance. On top of that, your house is made with timber, a natural material that creates a healthier environment for you and your family, while benefiting the natural world. You paid an affordable price for the minimum space and functions you needed, but if you wish, you can easily upgrade it with a terrace or garage later on.
The proposition of a certified green home is hard to ignore in the current environment. It answers to some of our biggest challenges: skyrocketing energy bills and material costs, and a climate crisis whose effects on our well-being and security are becoming more tangible every month.
In this interview, we explore the topic of sustainable homes and buildings with Daniel Butucel, a founder, engineer, and board member of the leading organization Romanian Green Building Council, issuer of the Green Home and Green Mortgage programs that can help homeowners with access to better homes for their needs.
Daniel's most recent venture, NIDUS Home, co-founded with two other entrepreneurs, is currently participating in the MVP stage of the BlackSea Climaccelerator by Impact Hub Romania with its solution for modular, prefabricated houses. Daniel is also the Managing Partner of Miradex, a well-established company manufacturing wooden prefabricated construction elements for residential and commercial buildings.
What follows is a conversation about Daniel's journey winning "the Olympics of solar houses" with Over4, the drivers of the sustainable building industry in Romania, and how homeowners benefit from choosing low-energy houses such as NIDUS homes.
He also explains what a nearly zero energy building is and why timber is the material of the 21st century, with great carbon mitigation potential.
The Recursive: At the beginning of your career, you participated in the Solar Decathlon with Over4. Can you speak a bit to that experience, what it meant for the local construction sector at the time and how it shaped your journey?
Daniel Butucel, NIDUS Homes: My journey in the Solar Decathlon competition with Over4 was a milestone in my career.
In a nutshell, Solar Decathlon is an international competition that challenges universities worldwide to form multidisciplinary teams of students that design, raise funds and build a fully functional and sustainable prototype of a solar powered house. Everything in a 1.5 year timeframe. It's like the Olympics for sustainable housing, but for students.
We represented Romania in the 2019 edition in Hungary, with Over4, a great project with a great team behind that managed to win the Bronze medal. Great achievement considering the fierce competition from top universities from the West with huge budgets.
Our goal with Over4 was to find the best mix between beautiful design, energy efficient measures, sustainable materials, renewable energy production systems and affordable cost. And at the same time, in the competition, we had only 15 days to assemble a fully functional house that would be tested and monitored for 15 days. And we did it – with the Over4 prototype, a modular, solar-powered and passive house, that produces twice as much energy as it consumes. It was built with timber and other natural materials like wood and sheep wool as finishes. On top of that, it was affordable. As a benchmark, a passive house requires 90% less energy to ensure the comfort you need. That means lower monthly bills.
And here I am, three years later, constructing sustainable buildings in my country and abroad with Miradex and NIDUS.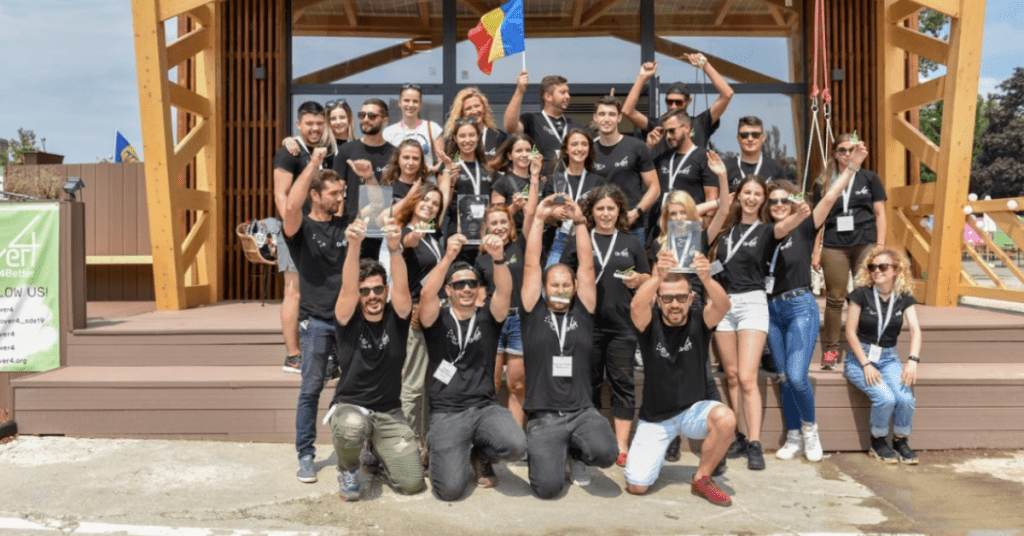 Can we talk about a sustainable building industry taking shape today, and what are the driving forces?
Well, considering recent international events, the energy bill is the main driving force in the transition towards energy efficiency in the building sector. Energy is becoming more expensive. The best energy is the one we save. Therefore, it makes much more sense to reduce the energy demand and consumption.
At the same time, the EU is also driving this transition to energy efficiency. There is a European Directive that mandates each state member to set the nZEB standard as a benchmark in the residential sector. nZEB comes from nearly Zero Energy Building and is a standard, very similar to the Passive House standard, for energy efficiency. It is very ambitious and, as a consequence, the local government is still having issues in implementation.
The main goal of the nZEB standard is to reduce the environmental impact of the building sector in Europe. The buildings in Europe account for 40% of the total energy consumption and 38% CO2 emissions. In other words, we need a lot of energy to produce building materials, to build and live comfortably.
Our real estate market has progressed significantly in the past few years. Most of the office buildings have a green label like LEEDS and BREEAM that certify a high standard of comfort, low energy consumption and CO2 emissions.
On the other hand, the residential sector is also doing better. More and more residential projects pursue the Green Homes/ Green Mortgage program created by the Romania Green Building Council (RoGBC). (Ed.note more on this later in the interview).
The energy crisis is also an opportunity to become more independent from energy produced from fossil fuels like coal and gas. If a building has a very low energy demand, that amount of energy can likely be produced locally with solar panels and you're becoming more independent from the price of energy.
What are some support schemes in the market that can help real estate developers and homeowners make choices with a better environmental impact?
RoGBC has done a great job with the Green Mortgage program. I mentioned before the Green Homes certification for residential buildings. Besides comfort and quality, this certification also creates a financial benefit for homeowners. We convinced the banks to lend discounted mortgages for building and purchasing a green home. We call it green finance.
How? Imagine you live in a Green Homes certified apartment. You pay less for heating, cooling and water. You save money due to lower monthly bills and you live in a healthier environment. For the banks you are the borrower that owes them money. For them, the risk of you defaulting on your mortgage is lower because you now have an indirect income to pay your debt. As a consequence, they are willing to give you a discounted mortgage rate, ranging from 0.15% up to 0.75%. And in the unfortunate case of defaulting on your mortgage, the bank will have a certified asset that preserves its value in time.
And very important to mention is that this is a voluntary program widely adopted in Romania. The majority of banks are enrolled and have created green mortgages for building, purchase and even renovation for both private individuals and developers.
At the same time, there is also a national program that subsidizes the installation of solar panels for private individuals. It has great potential but the progress is poor due to bureaucracy.
With NIDUS homes, you brought to market the concept of low-energy, modular, prefabricated, and natural houses. What advantages do real estate developers and homeowners get from purchasing such a house?

NIDUS Home proposes the concept of a modular home built in a factory with natural-based materials and with minimum energy costs. In other words, a home built in harmony with nature. We envisioned a modular building that can be finished from the factory and then assembled on site like a lego game. The prototype was successful; NIDUS homes can be adapted around 2D (panels) or 3D (modules).
In order to reduce the total carbon footprint of a building, we need to first reduce the energy consumption starting from the design stage, but also to use materials with low embodied energy. For example, we need high quantities of energy to produce concrete, steel or bricks, the most common building materials. And this energy comes from fossil fuels. And therefore each material has a carbon footprint, the CO2 emitted during the manufacturing process of that material. We focused on natural materials, like timber structure, cellulose, wood fiber, hemp or wheat straw insulation and cork or clay finishes. These materials are natural based and have a neutral or negative carbon footprint. Timber for example has a negative carbon footprint, -600 kg CO2/cubic meter, because a tree absorbs CO2 from the atmosphere through photosynthesis to grow. The same for hemp and straw. And the current technology allows us to produce natural-based building materials that meet all the quality standards as the conventional ones.
To give you a clearer picture, if we take just the timber structure and cellulose insulation of a 45 sqm NIDUS Homes and compare it with the equivalent built in concrete, steel and mineral wool as insulation, we save 19t of CO2 emissions by choosing natural materials. That's the equivalent of a car's emissions driving 10 times around the world.
The unique value proposition of NIDUS homes is a comfortable place that is built fast, safe with low energy cost and environmental impact.
What role does technology play in helping decarbonize and reduce the energy intensity of the construction sector?
To continue the previous idea, the technology advancement can be seen in our industry as well. We are able to build more in factories and less on site, using machineries to prefabricate building elements like walls, in a controlled environment. In this way we increase productivity, improve quality and reduce costs.
And we reduce emissions by optimizing logistics and transportation. To give you a picture, our company can produce the structure of a 150 sqm 2 storey house in 2 weeks in our factory and assemble it on site in less than a week, as prefab elements with insulation, windows and even the facade.
On the other hand, by using technology we can develop new ways of using building materials. For example, there are skyscrapers made from timber. Mass timber like Glue Laminated Timber or Cross Laminated Timber. The first skyscraper built in timber was completed in 2019 in Norway and has 85m height. It's said that timber is the material of the 21st century. It has a great potential for carbon mitigation. It stores carbon in its structure and thus we store that carbon in a building's structure. It's called a carbon sink. And if we plant more trees than we need in one year, we close the circle in a sustainable way.
The same can also be said about natural based building materials like the insulation. We use high quality cellulose from a local partner that produces it from recycled paper. Or wheat straw, eider as bales of fibers, it's a great insulator and it contains 40% carbon.
So, if we combine prefab technology with sustainable materials, we end up reducing the carbon emissions significantly in our industry.

You have a Building Services Engineering degree, but you have put on the entrepreneurship hat early on. What motivated you to pursue this path?
I was a bit disappointed by the university. There was too much outdated theory and less practice. I was always intrigued by the building process and not about designing.
So, I co-founded Over4 alongside five of my colleagues back in 2017, when I was still a student in the third year. Although I was studying engineering, I was in charge of communication and fundraising and I had to understand the market to get money, materials, and services from partners. For me it was like a startup. We have an idea and a goal and we were looking for funding to make it happen. I raised almost 350.000 euros in cash and in kind during those two years.
It was a great experience that helped me understand that my skills are more suitable in building houses and business.
Prior to Over4 I volunteered two years in EFdeN, a similar project in our university. So from my 7 years career, 4 years I worked for free. It's great to volunteer. You have the opportunity to try, fail and learn and work in teams. It helped me a lot to get to this point and I strongly recommend having a volunteering experience during your studies.
You are also a Board Member of the Romanian Green Building Council. Can you speak a bit to the achieved or desired impact of the task group you are coordinating, the Nearly Zero Energy Buildings (nZEB)?
nZEB is an important component in the Green Homes certification, which is a label created by RoGBC to certify those residential projects that meet a list of criteria, such as: where is the building located, what type of materials are used, the water saving potential, indoor air quality or how is the waste managed during construction and afterward. It's a holistic approach.
Regarding energy efficiency, we follow the nZEB regulation and I manage a task group of specialists and experts on this topic. The scope is to be up to date with regulations and to adapt our certification system accordingly.
The Green Homes certifies the quality of that building. Better comfort, lower energy and maintenance costs and a lower carbon footprint. There are close to 15,000 units certified or under certification with Green Homes.
What are some opportunities for Romania to unlock the next step in the development of a sustainable building industry?
Well, every crisis brings opportunities. This energy crisis speeds up the transition to energy efficiency, the above mentioned nZEB that is mandatory for almost 2 years now. It brings together all the stakeholders involved: the administration, architects, engineers, consultants, construction companies, building materials and equipment providers to collaborate and find build energy efficient but also affordable. It is also a driver for awareness and education, especially for the general public.
There is also the National Recovery and Resilience Plan for Romania, funded by the EU. Green transition is one of the funding lines. I see here an opportunity to invest in production facilities for sustainable building materials like the insulation based on straw, wooden fiber, hemp or cellulose. The more we produce locally with local sources of raw materials the better it is for the environment.
On the other hand, there is the existing building stock. The condominiums built in the communist era are very poor in terms of energy consumption. Any renovation plan makes more sense now, when the energy price is high. The payback time is shorter and I mentioned earlier about the banks that are willing to lend discounted loans for energy efficiency and green buildings. So, there are some opportunities.