Following the fast-paced development of technology and the disruptive impact of COVID-19 on the real estate industry, the proptech sector in the SEE has been on the rise. Local startups are quickly gaining traction and Greece is close to producing the first unicorn in the niche.
Recently, a new European VC fund expanded into the SEE region to tap into the potential of regional startups. PropТech1 Ventures announced their partnership with the Bulgarian fund 3p1, part of the Bulgarian biggest holding in the real estate industry – AG Capital.
Aimed at early-stage proptech and construction tech companies, PropТech1 Ventures wants to create a pan-European venture capital platform that discovers the potential for innovation in real estate. Together with their SEE expansion, they announced a new key investor from North Europe.
Their new limited partners from Bulgaria bring expertise and local networks to the fund. The founder of 3p1 Georgi Pavlov, a seasoned real estate expert turned investor, said in the press release that by joining PropTech1 Ventures they fulfill two key objectives – they open opportunities to support local startups, while also expanding their overview of the industry in Europe.
PropTech1 Ventures was originally founded in Germany in 2018 and it has invested in 11 companies so far, mostly from DACH countries. Some of the startups in their portfolio are Zurich-based Archylyse, which provides data analysis for real estate decision-makers, Berlin-based Wunderflats, a platform for housing as a service, and Building Radar, an AI-based search engine for construction projects.
The Recursive talked to the team of PropTech1 Ventures to learn more about their plans for the SEE region, how do ESG standards impact their investment decisions, and what are the tech trends that will drive the growth of the proptech industry next year. The answers were provided by Tzvete Doncheva, Investor Relations and Platform Manager, Klara Ritter, ESG expert, handling deal flow operations in the Nordics, and analyst Yuanzhe Fu.
The Recursive: Are there any particular niches or verticals you are interested in investing in Southeast Europe?
PropTech1 Ventures team: We are an early-stage PropTech investor and as such we are interested in getting to know the founders across Europe, building innovative tech businesses, optimizing the way the real estate industry operates. The PT1 journey originally started in Germany, with strong coverage of DACH (reflected in our portfolio, where most of our 11 investments come from), but over the last months, we've truly expanded our reach to other tech hubs on the continent – including the UK, the Nordics, Benelux. We've either hosted or participated in many ecosystem initiatives in those target regions and have been present on the ground to build partnerships with local players. As an example, our investor roundtable series, exploring the challenges and opportunities resulting from the tech and ESG disruption in the property sector, took us to European capitals like Copenhagen, London, Oslo, Berlin, and Vienna.
We are happy that we have now also gained investors in the SEE region with Christo Iliev and Georgi Pavlov, which establishes a network in this part of Europe. The trends we've been noticing in our overall deal flow, including ESG reporting and evaluation, tools focused on RE automation, and solutions democratizing home ownership (the PropTech/Fintech overlap).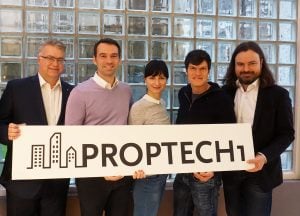 You're one of the proptech VC funds in Europe that is ESG compliant. Can you explain what this entails and how it impacts your investment decisions?
Let us give a bit more insights on the rationale behind our decision to certify PropTech1 as an Article 8 fund – a so-called light green fund. First, we would like to take an active part in the EU Commission's commitment to sustainable development goals and support the attempt to introduce harmonized requirements on sustainability-related disclosure in financial products.
We are also seeing an increasing demand from financial market participants to deploy capital in ESG compliant vehicles.
We, however, do not want to make it our core investment objective to create a positive impact on the environment and society, as this would restrict our investment focus/targets significantly.
Whereas we see ESG as a significant business opportunity and a large part of future PropTech innovations, we simultaneously see other business opportunities and attractive investment fields not directly addressing environmental and societal concerns.
We are hunting for the next European billion-dollar PropTech companies, some will be operating in a sustainability-related field of real estate, but not all. We'd like to be able to enter in all those deals and be the preferred investor of choice to all early-stage PropTech founders in Europe.
Our investment process is influenced by ESG considerations as follows:
ESG due diligence plays an integral part in our DD process.

PT1 is integrating ESG clauses into contractual frameworks.

Furthermore, as a very active early-stage investor, we are supporting our portfolio companies in developing ESG actions;
Which are the top 3 trends that would fuel the growth of the proptech industry in 2022?
ESG mandates will push the real estate stakeholders to curate green buildings, inclusive community, and risk management (ESG reporting and evaluation, experience-based value-added services, etc.).
Post-pandemic digitalization will accelerate the technological evolution in the real estate industry (automated management tools, tokenization, etc.).
Excess liquidity will enter into PropTech, where the underlying asset is far from optimally consumerized and where individuals' participation in the real estate industry could be realized (home co-ownership, real estate fractional investing, etc.).