Propy, a real estate blockchain startup based between Silicon Valley and Sofia, and co-founded by two Bulgarians – Natalia Karayaneva and Denitza Tyufekchieva, is the first one to auction an apartment as an NFT (non-fungible token).
Propy made the first-ever blockchain-based real estate transfer back in 2017 exactly with this property. This one-bedroom apartment in Kyiv, Ukraine was sold via a smart contract on the Etherium to the founder of TechCrunch and Arrington XRP Capital, Michael Arrington. Fast forward to today, the NFT sale is about to have a historic significance because it is the first transaction, based on US legislation, that has the potential to unlock the market for future NFT property purchases.
"I'm thrilled to work on this innovation and to see NFTs having a "moment." As the public becomes more aware of NFTs and other forms of cryptocurrency, real estate will catch up. I can quote my company's investor, the legendary VC Tim Draper: "I am excited about how NFTs in the virtual world are going to be applied to real estate in the physical world. I suspect that people will soon be able to buy a building, buy the air rights and buy the virtual rights of any physical space," comments for The Recursive Nataliya Karayaneva.
A historic blockchain sale
The bidding for the apartment begins on the 8th of June at a starting price of $20K and the NFT that will transfer the ownership of the property will be auctioned over a period of 24 hours.
Arrington's studio has a full kitchen and a full bathroom and besides access to the ownership transfer paperwork, the unique sale will also include an NFT printed cyberpunk wall picture.
The NFT artist who created the digital wall artwork in the apartment CHIZZ is a Ukrainian street artist whose clients include international brands such as Pepsi and Lays. He has also sold his artwork on the Foundation App, which is used by many creators as a platform for selling digital art as NFTs on the Ethereum blockchain.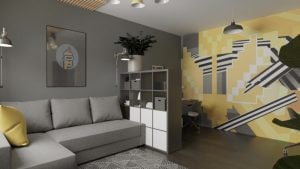 The NFT transfer itself will happen with Arrington signing special legal papers for NFTs to allow the transfer to the future buyer. The winner who offers the highest bid will fill out his know-your-customer (KYC) details and pay the corresponding price in cryptocurrency.
Michael Arrington has commented that he is excited to be part of an experiment that pushes the innovation around blockchain. He sees the NFT sale of his apartment as a proof-of-concept, which can lead to more developments in the fields of decentralized finance, collateralized loans, and P2P mortgages. According to him, despite the fact that there are still legal and regulatory questions about the use of blockchain in real estate, Propy has made significant progress in the field. With the idea to use NFT as a representation of a real estate asset, Propy can simplify the issues connected to real estate trade and access to credit markets, says Arrington.
The story behind Propy
Combining the expertise of its two Bulgarian co-founders in software engineering, real estate development, blockchain, and business development, Propy is a platform that uses blockchain to make property transactions and bring agents and consumers together in a secure environment. Founded only 5 years ago, Propy has already facilitated around a thousand real estate transfers and has raised $16.7M. The latest fundraising round of the end-to-end property transaction management platform was led by the venture capital investor Tim Draper, who has previously backed Tesla, Twitter, Robinhood, and Skype.
"At Propy, we are developing new ways to support and manage the application of NFTs, such as homeownership transfer for entire homes, as well as fractions. We've been selling via blockchain for several years now," explains Karayaneva. She further elaborates that the conventional transfer of property ownership is highly labor-intensive and expensive and even an equity line requires a significant amount of paperwork. According to her by NFTing property rights, it becomes much easier to trade and manage them, and given the fact that NFTs are gaining adoption in other industries, they have decided to introduce that at Propy.
"The real estate industry is slow in adopting new technologies. However, the nature of real estate makes it ideal for blockchain applications. Propy's NFT sale is a significant milestone in leveraging the promise of blockchain technology to achieve self-driving real estate transactions and participation in the decentralized finance economy," elaborates Karayaneva.
Why did NFTs skyrocket in 2021
In February 2021 the purchase of one viral GIF cat meme for 300 Etherium marked the beginning of a new digital investment trend, which soon led to the purchase of a 10-second video for $6.6M, and then of a video of Lebron James for around $210K. And if you are wondering why this GIF cost around $600K, it was because its original copy was sold in the form of a non-fungible token (NFT).
The value of these digital assets that exist only on the internet comes from the fact that through blockchain technology they become publicly authenticated and serve as a digital signature. Even though NFTs have been traded since 2017 on the OpenSea marketplace, their sales skyrocketed from $8M in January 2021 to $95M in February.
Unlike fungible assets such as dollars and other kinds of currencies, NFTs cannot be exchanged for assets of a similar value because each one of them is unique. The assets exist as numbers and letters, stored on the blockchain, and consist of encrypted information about who owns it, who purchased it, and when it was sold. Therefore, thanks to encryption, NFTs have both an element of authenticity and scarcity. Moreover, the property can take all kinds of forms – from digital artwork and sports videos to tweets, chunks of virtual land, and why not physical properties and real estate.