Austria ~
ViennaUP'21, the largest startup conference in Central and Eastern Europe, is just behind the corner with just a few days left until the official kick-off on April 27th. For two weeks, a series of digital events will cover pretty much all the hot areas across the innovation and investment spectrum – from zero waste through health & life sciences and social entrepreneurship all the way to fintech and proptech. As this is indeed a massive convention that brings together over 40 program partners, The Recursive team curated a list of the top 10 things founders from Southeast Europe can do during the conference to extract the most value for their businesses.
1. Connect with international investors
For those looking to fundraise and expand to new markets, ViennaUP'21 will be offering several opportunities. For starters, the event organizers have provided a digital matchmaking platform, which, during the conference, founders can use to showcase and thus to arrange a meeting with investors and other possible partners. As part of the event program, there will also be various pitching events and matchmaking opportunities.
"Our business is to invest in global champions. We firmly believe we can build these world-changing companies right here in Vienna, so come to us and let's do it together," explains Oliver Holle, managing partner of Speedinvest, an early-stage VC that invests across Europe.

2. Showcase products to potential customers
While we are on the matchmaking platform, it's worth mentioning that it offers an opportunity for listing your startup product in a marketplace and maybe collecting a bunch of leads. It's free of charge.
3. Discover everything needed for expansion to Vienna
Because of its strategic central location, the city of Vienna has often been the first logical choice for founders from Eastern Europe who are looking to grow into markets in Western Europe. During the "Open Vienna – A Thriving Startup Ecosystem" virtual tour, founders with an ambition to expand to Vienna can learn all the practical details that will be necessary for this step – from market entry strategy to how to set up the right legal entity.
"I am very connected to Vienna, I came here three years ago with the Vienna Startup Package, and I was thrilled how lively it was," shares Luka Mohoric, the founder and CEO of Slovenian pet tech startup Animacel.
Starting Date & Time: April 28th, 09:15am CET/ 10:15 EEST
4. Explore the latest fintech trends
In recent years, Southeast Europe has started positioning itself as a fintech destination and many of the emerging ventures in Bulgaria, Greece, and Romania come from this sector. For all of the people working on financial innovations, there will be an entire fintech week, featuring plenary sessions and targeted 1:1 meetings.
Starting Date & Time: May 3rd, 08:00am CET/ 09:00 EEST
5. Join the discussion on zero waste & sustainability
The reduction of waste and negative environmental impact is an important topic for all entrepreneurs, regardless of their vertical of operations. To bring a better understanding of these important topics, ViennaUP'21 will feature a dedicated discussion with circular economy and food tech experts as well as the founders of packaging-free stores.
Starting Date & time: April 30, 10:00 CET/ 11:00 EEST
6. Find a female co-founder or team member
The percentage of female entrepreneurs remains low across geographies even though there are numerous benefits of having a diverse founding team. To try to change this state of affairs, WeDO5 will provide a virtual networking platform connecting female talent with early-stage startups.
Starting Date & Time: May 3rd, 5:30pm CET/ 6:30pm EEST
7. Learn how to scale a digital health venture
The pandemic has brought an emerging wave of medtech startups in Southeast Europe and if you're part of one of them, you may join an expert table on various scale-up topics in the digital health industry or network with some of the successful European startups in the field.
Starting Date & Time: May 11th, 3pm CET/ 4pm EEST
8. Dive deep into the post-pandemic future of the tourism industry
The tourism sector, traditionally an import part of SEE economies, has certainly been disturbed by the travel restrictions in the past year. During ViennaUp'21, there will also be a panel discussion and a pitching competition that aim to explore what has changed and uncover the latest trends and innovations in hospitality.
Starting Date & Time: May 12th, 3pm CET/ 4pm EEST
9. Get inspired on how to use tech for social impact
How can extended reality tech, robotics and AI be used to tackle social problems? Can such technologies improve health and well-being or support the work of charities? The answers to these questions can be found during a workshop organized by XRVienna, Austria's biggest AR/VR community.
Starting Date & Time: May 4th, 10am CET/ 11am EEST
10. For students only: Develop your first business idea
Last but not least, the youngest founders who are still studying at the university can join Entrepreneurship Avenue, Europe's biggest student-focused startup event series. The event spans several weeks and offers student entrepreneurs, the opportunity to find teammates, receive mentoring from startup experts, and pitch their ideas to a professional jury.
Starting Date & Time: April 20th, 7pm CET, 8pm EEST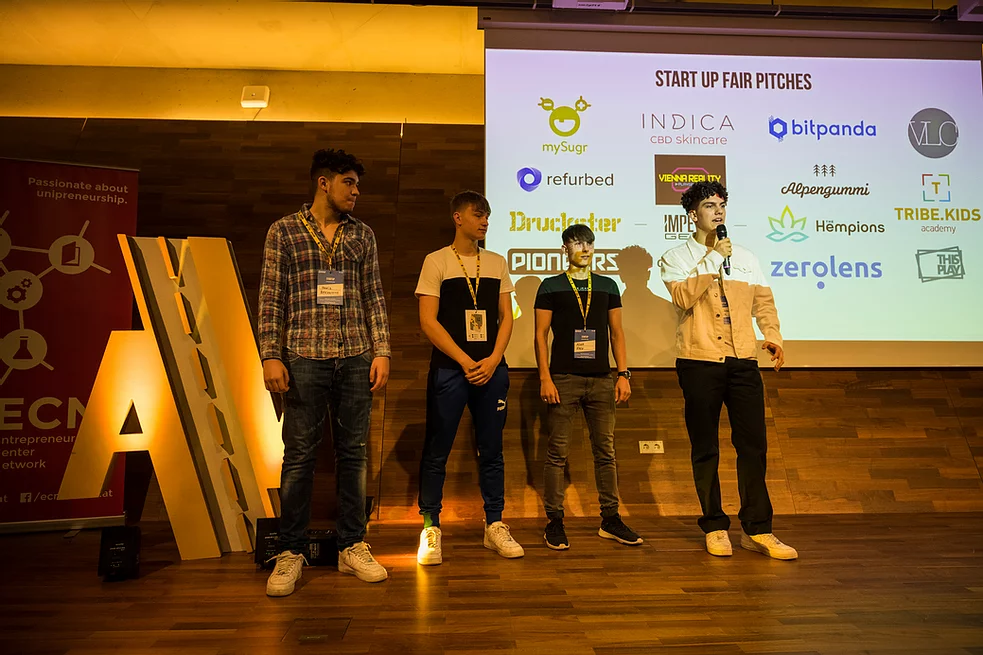 All things considered, ViennaUP'21 is about meeting and connecting with people from the global startup community. As Mihai Dragichi, founder and CEO of Romanian biometric payment startup PayByFace says, "I am excited to join because of the opportunity to meet other startups and build some synergies, and of course, talk to investors."